My Kenny Rogers Happening...






Okay, some of you guys know I went to see Kenny Rogers a couple of weeks ago. I never really thought of going to see him but my husband bought the tickets and we went. It turned out they were front row seats which was great. Coincidentally a guy my husband works with (and his wife) were sitting directly behind us. Small world, huh? Neither of them knew the other was going, LOL! The concert was great and the view was awesome.

In 1986 Kenny published a book of photos. There was a picture that I thought was my half brother Bob. Bob was a kind of drifter. They just happened to show this picture on the "Today Show" when he was promoting the book. I didn't have a car at the time so I couldn't go searching for this book. By the time I had time to look, it was out of print. I always wanted to tell Kenny about Bob and wondered how I would get a letter to him. I figured fan mail was dumb and he would never get it. I never dreamed I would be handing it to him at the show. I had typed it up on a whim explaining about the picture and a little about Bob. He came over right in front of us and I got up and handed it too him. I felt like telling him it wasn't a subpeona or a mushy fan letter, nor a pair of my panties becasue the envelope was way too small! He took it and put it in his jacket. I figured that would be the end of it.

We came home and one night when I was watching "Who Wants To Be A Millionaire", Regis mentioned the 'net & books in the same breath and I smacked myself in the head and said, "eBay!" I found the book there and bought it. The dogs were barking this afternoon and I saw the mail truck across the street. Of course I can never hear if someone is actually knocking on the door over the din of the dogs. So my husband goes to take the garbage out and comes in with two packages. He says: "Did you order anything from Kenny Rogers' (web site)?" I said no and he brought the packages upstairs. The one package was the book I had ordered from eBay and the other was the same book from Kenny Rogers! Not from his agent nor his web site or whatever but directly from his house in Georgia to mine! With a personal note and everything! I was so excited. I never asked him for anything more but to let me know the last name of the "Bob" in the picture, because I was not sure if it was him (I hadn't seen him in years). So now all I have to do is wait for my sister in law to get out of the hospital so I can show it to her and we can find the pictures she has of him from around that time.

I was so excited and impressed I just had to share. I hope I didn't bore you, but you guys are like my extended family and I just had to tell you!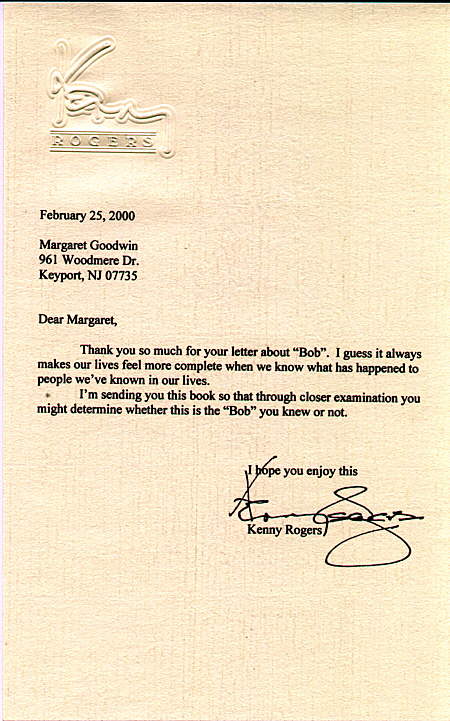 Okay, now you guys know my real name and address. No stalkers please, LOL!